Best Odisha Gk For Odisha competitive Exam Free PDF
Odisha General Knowledge – Today we will collect fundamental questions about 'Odisha General Knowledge' for you. Odisha GK MCQ 4000+ Question Who has brought Odisha Extremely useful for competitive exams like OPSC Recruitment?
Extremely useful for all competitive exams like OPSC, Odisha Police, OSSC, OSSSC, Revenue Inspector, Odisha Fireman Exam Women Supervisor TET Teacher, Forest Guard, Odisha Amin Exam, and other Competitive Exam.
Odisha Important Gk Quiz Link Here
Download Our Class PDF HERE
Don't miss this chance to boost your preparation for Odisha state exams. To help you prepare effectively for these exams, we have launched an all-inclusive Odisha GK book covering all topics from the state. Normally available at Rs. 200, we are offering it at an unbelievable price of just Rs. 99 for a limited period!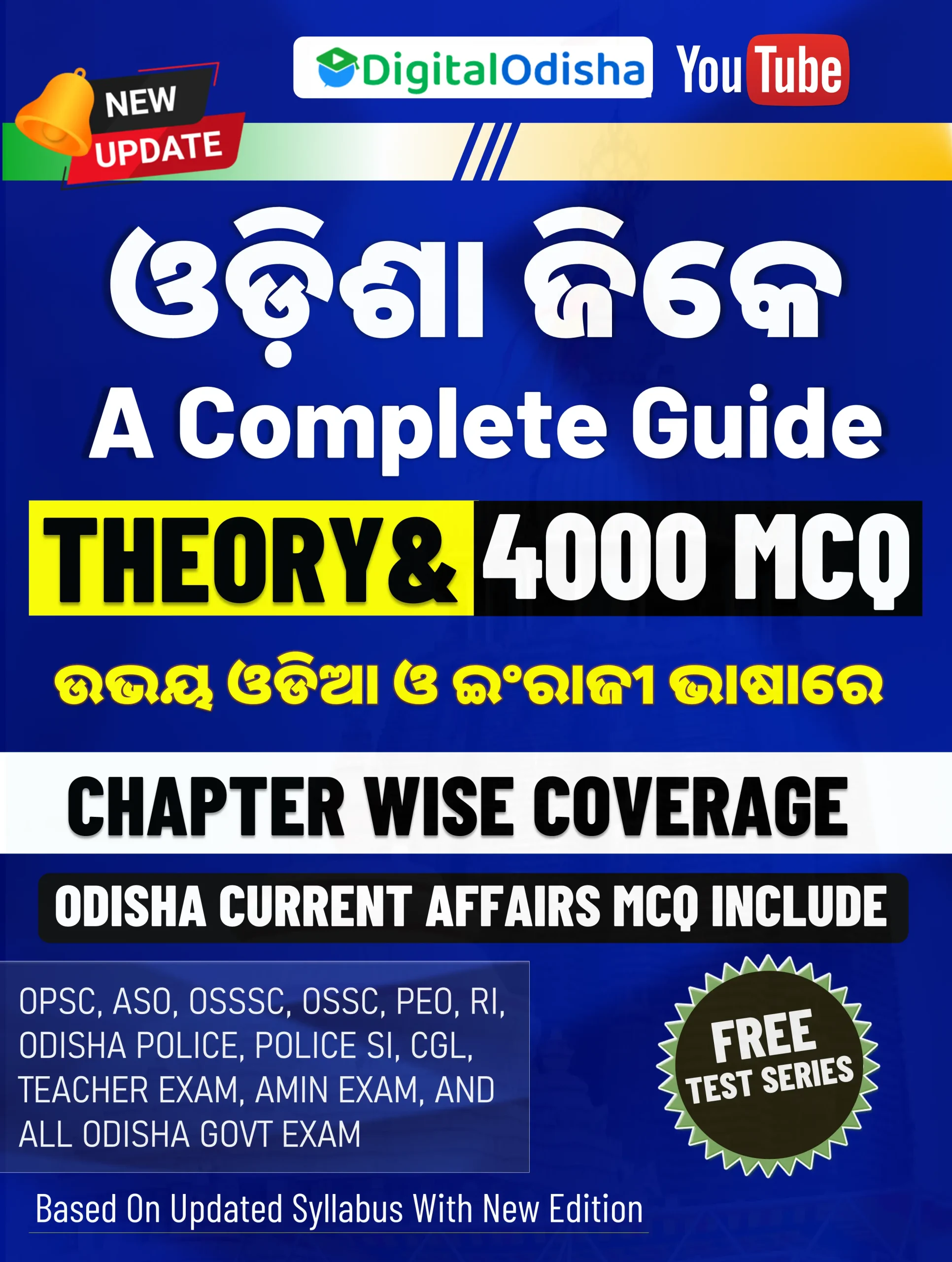 କୁଇଜ଼ କୁ ଦେଖିବା ପାଇଁ ବିଷୟ ଲିଙ୍କ ଉପରେ କ୍ଲିକ କରନ୍ତୁ ଏବଂ କୁଇଜ ରେ ଅପସନ ରେ କ୍ଲିକ କଲେ ଭୁଲ କି ଠିକ ଜଣାପଡିବ
Odisha Gk For Odisha competitive Exam
Download You Tube Class PDF Here
How To Prepare For Odisha General knowledge Objective Paper
Odisha General knowledge is an important topic for All Odisha Competitive Exams. Here provide some Odisha general knowledge Questions For Practice Just Crack it here.
5000+ Odisha General Knowledge
Download Odisha Gk Syllabus
Best Odisha Gk book

Important FAQ
1️⃣ Which is the best GK For Odisha Exam?
You Prepare from the Odisha General knowledge book for your Competitive Exam.
2️⃣ Which Odisha book is best For Exams?
You can Read any book available in the market but we suggest a book Odisha Samanya Gyan Objective By Digital Odisha
3️⃣ How do I prepare for Odisha GK?
You can prepare for this topic from any book youtube or website. But We suggest  Odishagk.in  Website For Better Prepare.
4️⃣ What are the basic Odisha GK questions?
You need to prepare Odisha's History, Odisha Geography, Odisha Economy, Odisha polity, and Odisha.
5️⃣ How To Download Odisha Gk PDF Free?
odishagk .in Provide free Odisha gk pdf for free for Odisha Competitive exam
Details About Odisha
Date of Establishment

1st April, 1936

Capital

Bhubaneswar

Latitude

 17° 49¢ N to 22° 34¢N

Longitude

 81° 29¢ E to 87° 29¢E

State Boundaries

West Bengal in the North East, Jharkhand in the North, Andhra Pradesh in the South Madhya Pradesh in the West

Official Languages

Oriya, English

Geographical Area

155707 sq km (9th in Country)

Forest Cover

 37.34%

State Dance

Odissi

Total Population (2011 Census)

41,947,358 (11th in Country)

Male Population : 21,201,678

Female Population : 20,745,680

Rural Population: 34,951,234

Urban Population: 6,999,124

Decadal Growth Rate of Population0

13.97% (2001

Sex Ratio

978

Density

269

Total Literacy Rate

73.45%

• Male Literacy 82.40%

• Female Literacy 64.36%

Infant Mortality Rate

(INR) 40 (Per 1000, live birth)

Maternal Mortality Rate

(MMR) 2.22 (Per 1000, live birth)

Religion wise Distribution of Population

Hindu 94.35%

• Muslims 2.07%

• Christian 2.44%

• Other 1.14%

Languages

Oriya

Official Languages 

Oriya, English

Divisions

 Cuttack, Berhampur, Sambhalpur

Districts

30

Lok Sabha Seats

21

Rajya Sabha Seats

 10

Vidhan Sabha Seats

 147

Nature of State

 Legislature Unicameral

High Court

Orissa High Court, Cuttack

Famous Universities of Odisha

 North Odisha University Mayurbhanj

 Berhampur University Ganjam

 Odisha University of Agriculture and Technology Bhubaneswar Ravenshaw University

Cuttack Biju Patnaik University of Technology Rourkela Kalinga Institute of Industrial Technology

Bhubaneswar National Institute of Technology

Rourkela Shri Jagannath Sanskrit Vishvavidyalaya Puri

Utkal University Bhubaneswar Fakir Mohan University

Balasore. Sambalpur University Sambalpur

Utkal University of Culture Bhubaneswar