In this post, we share a List of mountains in Odisha, the Mountain Ranges of Odisha download a FREE PDF. This post help for the All Odisha competitive exam.
| | |
| --- | --- |
| Name of the Post | mountains in Odisha |
| Type Of Post | Odisha Geography |
| Help For | All Odisha competitive Exam |
| PDF | Download pdf here |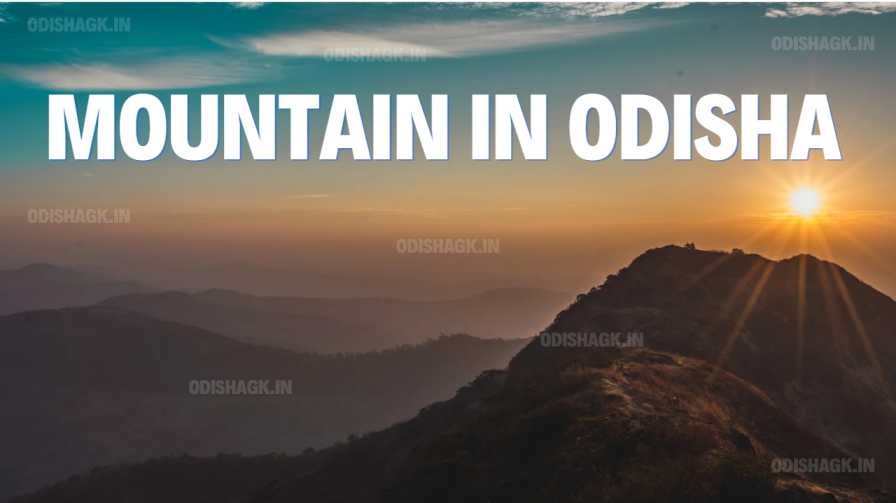 Mountain Ranges in Odisha important part of Odisha's Geography.
Top list of Mountains in Odisha
Badam Pahar
Bādāmgarh Pahār is a hill and Mountain located in Orissa, India.
This Hill station is situated in Mayurbhanj District.
The estimated elevation above seal level is 1075 meters
The iron ore, Hematite mined in the Badampahar mines of Odisha is situated near these hills.
Tensa Hill
Tensa Hill Station is located in the Bonai Forest Division of Sundargarh district.
Tensa Hill Ghati's height is about 3,700 meters above sea level.
It is about 93 km distance from Rourkela Town.
Tensa is mainly known for its iron mines developed by SAIL and Jindal Steel.
Putsil Mountain
Putsil Mountain is located in sunabeda, Koraput Odisha.
It is known as Switerzland Of Odisha.
Mukulingia hill
Mukulingia hill is situate in Phulbani Town, Odisha.
It is the Most Tourist Place in the Kandhamal District.
Bonda Hill
Bonda Hill is located in Malkanagiri District.
This is the living place of the Bondas Tribe.
A Famous Festival "Patkhanda Vatra" is Celebrated here.
This is a Famous hill station in maklanagiri district.
Barunei hills
Barunei hills is situated in khorda district near Bhubaneswar.
Maa Barunei temple is situated at the bottom of the Barunei hills.
Brunei hill station is near Bhubaneswar, the capital of Odisha.
Gandhamardhan Hill
Gandhamardhan Hills is a hill located in the Balangir District Of Odisha.
This hill is well known for its medicinal plants.
Gandhamardhan hill is a famous hill station in Balangir District.
Mahendragiri Hill
Mahendragiri Hills is located situated near parlakhemundi Gajapati.
It is situated amongst the Eastern Ghats at an elevation of 1,501 meters.
This is considered one out of Seven Kula Parvat of India.
This is the second highest mountain peak of Odisha after Deomali in the Koraput district.
Mahendragiri hill is an ecological biodiversity of Odisha.
Malayagiri Peak
Malayagiri is a mountain peak situated in the Malayagiri range in Anugul District.
The estimated elevation above seal level is 1190 meters
It is located near Pal Lahara town near Angul.
Deomali hill
Deomali is the highest mountain peak in Odisha.
It is situated in Koraput District.
Deomali is Famous for Ecotourism and Mountain Terrikking.
The estimated elevation above seal level is 1672 meters
There are many Tribes living on this Mountain Such as Kandhas, Parajas, Bhumia, Malis, and Bhotias, etc.
Daringibadi Hill
Daringbadi is a famous hill station in the Kandhamal district of Odisha.
It is a beautiful place for visitors.
it is situated at a height of 915 meters popularly known as Kasmir Of Odisha.
The temperature level of Daringbadi is very low.
Gudahandi Hill
Gudahandi is also known as 'Gudahandi Hills' and it is situated in Kalahandi District.
It is Close to Nabarangpur district.
The estimated elevation above seal level is 493 meters
| | |
| --- | --- |
| Important Peaks | Height (in meters) |
| Badam Pahar | 1075 m |
| Badamgarh | 1074 m |
| Balia Pahar | 950 m |
| Deomali | 1672 m |
| Deva Giri | 964 m |
| Gandhmardan | 1060 m |
| Golikonda | 1617 m |
| Kunaratir | 1064 m |
| Mahendragiri | 1501 m |
| Niamgiri | 1515 m |
| Nrusighanath | 986 m |
| Sinkaram | 1620 m |
| Yendrika | 1582 m |
BadamPahar Mountain
If you like this post share your friends. Also you join our Youtube channel for Daily Live Class pdf on youtbe and daily free class pdf .